We offer a number of services at very competitive rates: custom furniture refinishing and restoration, general handyman work, small moves, deliveries and junk removals, in the general Vancouver, Richmond and Burnaby areas.
Call or text 778-957-6108 for more information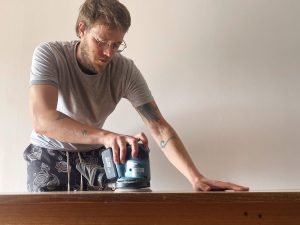 Custom Refinishing and Restoration
Text or call us to get an estimate quote for repairing or restoring your vintage furniture. We offer professional and long lasting quality furniture refinishing with a flat hourly rate that is very competitive. Include pictures with your text!
If texting or calling is not your thing, feel free to email us an inquiry, including pictures as well.
You can check out our View Inventory page and our Instagram to see examples of our excellent work – or book an appointment and visit our shop!
General Handyman Work
We have downtime in our work fixing and selling vintage furniture, and in that time we can use our expertise to help with other tasks, like repairing or building fences, cleaning gutters, basic plumbing maintenance, drywall repair, hanging decor, or even assembling flat packed furniture from IKEA.
If you have anything that needs done, shoot us a text or email and we can discuss whether its in our scope of work.
Small Moves or Junk Removals
We have a cargo van for our daily business operations, and we can utilize that van to help with moves, deliveries and junk removals. We cannot offer moves for larger places, like full detached homes or multiple room apartments, but for studio or one bedroom moves, we can offer very affordable moving rates.
For small moves, deliveries or junk removals, call or text us for more information